Our Family
About Us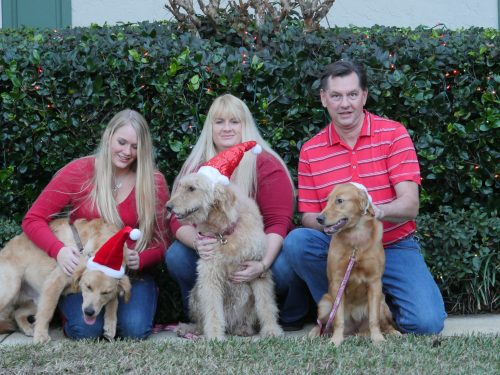 Our names are Greg, Angie & Kristin.  We are the Meyer family!  Greg does a lot of research on different ways we can help our dogs be happier and healthier.  He is beginning to train our dogs for different AKC competitions.  Angie handles all of our communications and paperwork with our puppy families! Kristin (daughter of Greg and Angie) manages the social media pages and web updates.  She also has worked as a dog trainer and now trains privately on the side. We are all animal lovers and have always grown up with animals. From fur friends to feathered and even scaly! We have found that we are all absolutely in love with the Golden Retriever breed. We love our dogs like our children (even spoil them that way). We currently have in total 9 dogs (8 Golden Retrievers and 1 Golden Doodle), a cat, a bird, a guinea pig, several fish tanks, and 2 outdoor fish ponds. We pride ourselves in keeping all of our animals happy and healthy!
How our passion began and where we are today
      It all began with the movie Air Bud being one of Kristin's favorite movies as a kid. She just had to have a Golden Retriever like Air Bud to play with. She received a female Golden Retriever puppy for Christmas when she was 8 years old from her grandparents. Filled with excitement, she had a list of names she and Holly was the first name the puppy responded to.  About a year and a half later, we decided to get a Golden Doodle who we named Roxy. This is where our love for Golden Retrievers began. Unfortunately, when Holly was 9 years old we found a mass in her abdomen, which required surgery.  The biopsy determined she had osteosarcoma. Osteosarcoma (bone cancer) is a very aggressive cancer that can spread to all parts of the body in dogs and we were told she only had a few months to live.  We did not want to put her through chemotherapy treatment. She passed away 3 months after the mass was removed in 2014.  
     After Holly passed away Roxy seemed very lonely and lost, so we decided to get another dog to help with Roxy's depression. We found a female Golden Retriever and drove South Carolina to get Dixie. A few weeks later, we decided to add another a male Golden Retriever to the family and drove to Georgia to get Ruger. As we began doing more research into the Golden Retrievers and their health, we decided to enroll Dixie and Ruger in the Morris Animal Foundation's Golden Retriever Lifetime Study when they were puppies. This study is to try to help figure out canine cancer and how to stop it. Golden Retrievers were picked since they have the highest cancer rate than any other breed. This study makes us commit to taking Dixie and Ruger to the vet annually for their entire life to get blood, urine, stool, fur, nail, and other samples taken. We also annually complete a comprehensive questionnaire on their diet, exercise, environment, etc. They are 2 out of 3000 dogs enrolled in the study. We wanted our dogs to participate in this study to honor Holly and to help figure out this awful killer. If you would like to learn more about the study or donate to the research, I have provided the link at the bottom of this page.
    Along with research of Golden Retrievers we discovered that they came in many different colors:  white, medium golden, and sometimes a darker red coat.  In 2015 we decided to add an English Cream Golden Retriever to the family and drove  all the way to Texas  to get Ranger. Shortly after, in 2016, we drove to North Georgia to get Liberty, our female English Cream Golden Retriever. 
     In Dixie and Ruger's 2017 litter we never expected a Golden to be born with a black spot!  We had a special little girl born with a small amount of a recessive gene that made a marking on her of black fur that we call her "birthmark". This mark is just that, it does not effect her structurally or health wise and she is unlikely to pass the gene along. It is a very rare happening and there are only a few Golden Retrievers out there with black marks. The coolest thing about it is when it occurs no two are alike! Kristin decided to keep her and name her Kloe.
     While watching the movie "Fluke", we decided we would also like to add Dark Red Golden Retrievers to our family. As many people know Dark Red Golden Retrievers are hard to come by. After searching for a while, in April 2018, we drove to Kansas to get Indy.  We than decided to add a little more "snow" to our family and in October 2018 we drove to North Georgia to get our Abby. In March 2019 we decided to add more red to the family, so we drove to again North Georgia to get Shelby.
    We absolutely love our dogs and spoil them rotten! All of our dogs are trained with basic commands using both verbal and nonverbal (hand) cues. Liberty has her AKC Star Puppy and AKC CGC. Dixie, Ruger, and Ranger have completed basic Adult Training 1 & 2. Kloe, Indy, and Abby are being socialized and continue to work on basic commands and toward possible AKC certifications. We use positive reinforcement based training, which you can read more about in our Training link! Read more about each of our dogs on their individual web pages!
Morris Animal Foundation's Golden Retriever Lifetime Study: https://www.morrisanimalfoundation.org/golden-retriever-lifetime-study